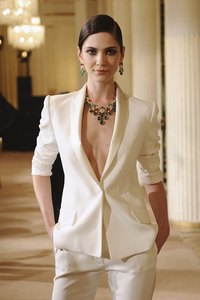 Chic and sophisticated blazers should be an indispensable part of a woman's wardrobe. A closet full of blazers allows you to create a multitude of looks, ranging from casual to dressy; but if you plan to limit your selection to just a few, a pearl-colored blazer is a smart choice for both its neutral hue and versatility. Whether it's paired with sleek trousers or an edgy pair of leather shorts, a pearl-colored blazer adds a a dose of elegance to the most basic ensembles.
Jeans
A pair of casual denim jeans is a great way to tone down the inherent dressiness of a pearl-colored blazer. Whether rocking a pair of form-fitting skinny jeans or a cool pair of baggy boyfriend jeans, a soft neutral-colored T-shirt underneath a pearl blazer is a great combination to sport to a variety of events. Add a glam accessory like a statement necklace or pair of metallic drop earrings to complete the look.
Shorts
A pair of shorts is a wonderful pairing for a fresh pearl-colored blazer. Denim cut-offs are great for a stylish but casual outfit, while a pair of silk, printed shorts is a dressier, sophisticated choice. If you're looking to embrace an edgy vibe, a pair of leather shorts will do the trick. Tuck a sleek tank top into your shorts and wear the blazer unbuttoned for a cool-girl feel or wear a crop top and high-waisted shorts for a look that's hip and trendy. Seal the deal on this stylish outfit with a fedora or sunhat.
Printed Skirts
A printed skirt in a lovely pattern is a decidedly feminine approach to a pearl-colored blazer. Floral and watercolor prints are soft and chic, and will pair beautifully with this type of blazer. Try a pencil skirt for a streamlined look, or opt for a long maxi skirt for a bohemian vibe. A neutral-colored camisole underneath will pull the look together perfectly, so stock up on a few different shades for a sufficient supply of interchangeable, trendy outfits.
Dresses
Opt for a fitted dress to pair with your pearl blazer. Printed dresses as well as solid-colored sheaths in colors like blue, orange and pink are fantastic options to look polished and put-together for anything from a wedding to the office. Add a metallic belt to enhance your curves and highlight a sleek silhouette. A pair of nude heels will lengthen legs and further flatter your figure. Finish the look off with accessories like a neutral clutch or stack of bangles for just a hint of glam.