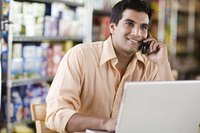 If your small business is losing money, it's usually apparent that things are not going well. On the other hand, if it seems that you are selling a lot of product but not really seeing the value of your bank account growing, some better analysis will show you the state of your profitability. Depending on the size of your business, a couple of tools and techniques will allow you to get a better handle on the exact profitability of your business.
Financial Statements
The accounting profession has developed a series of financial statements that show the assets owned by a business and whether it is profitable or not. The balance sheet lists the assets and liabilities of your company. The income statement -- also referred to as the profit and loss statement -- show whether your company is making or losing money after expenses. The cash flow statement shows how much money came into your company and where it went. While the P&L statement shows the actual profit or shortfall of your small business, going over all three on a regular basis will show you the financial health of your company.
Business Bank Account
If you have a small, relatively simple business, your business bank account can provide a quick picture of whether or not your business runs profitably. All of the money that your company receives should go into the account and only business expenses should be paid out of your business account. Do not tap the account to pay for your personal expenses. If the cash balance in the business account grows over a period of time, you company is making money on some level. Once you see that the account shows profits, you can draw some money out for your personal use.
Gross Profits vs Expenses
The profit and loss statement of your business shows the gross profit from the sales of products and then shows the expenses that are paid out of the gross profits. Gross profits are the difference between the selling price of your products minus the wholesale cost. A regular analysis of the expenses will show you places to save money so that more of the gross profit reaches the bottom line as net profit for your business. Review the P&L of your company at least monthly.
Software Solutions
For a small business that cannot or does not want to pay an accountant to produce financial statements every month, off-the-shelf small business accounting software can handle the task and produce the financial reports you need at any time. The important point of using software is to make sure that all of the income and expenses for your business are entered on a timely basis. The P&L produced by the accounting software is not of much use if there is a two-month stack of invoices and receipts sitting in a pile and not entered into the program.