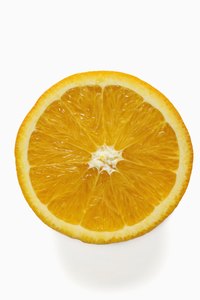 Vitamin C is naturally found in the skin, but several factors cause you to lose it, including exposure to sun, pollutants, cigarette smoke and age. Dr. Oz Mehmet says that topical vitamin C can be 20 times more effective in combating signs of aging than adding vitamin C to your diet. Vitamin C can help prevent and reverse wrinkles, as well as erase age spots.
Vitamin C Is a Powerful Antioxidant
Vitamin C helps skin maintain its youthful appearance. It fights the free radicals that cause the breakdown of collagen in the skin, and has been known to reverse the damage they cause to DNA. Vitamin C can also act as a mild sunscreen and prevent sunburn, thus combating the signs of aging. However, it is important to note that vitamin C's sun protection abilities are weak, and it should not be used to replace traditional SPF but in conjunction with it.
Vitamin C Protects and Repairs Discoloration and Fine Lines
Collagen is a protein responsible for the plumpness of your skin. With age, your skin begins to lose collagen. Vitamin C is a powerful tool to help replenish collagen levels. The University of Maryland Medical Center reports that vitamin C combined with madecassoside (a plant extract known to influence collagen production) can improve wrinkles, your skin's flexibility and its hydration.
Applying Topical Vitamin C
Once applied to the skin, vitamin C remains effective for up to 72 hours. Mehmet recommends applying topical vitamin C daily, after exfoliation. Results can develop within two to four weeks, although many people may not see a difference until eight weeks. The maximum benefit should be visible by six months of usage.
Tips on Buying Vitamin C Products
The recommended concentration of vitamin C is between 3 percent and 10 percent. The active ingredient should be one of two forms: either ascorbic acid or L-ascorbic acid. Examine the packaging before you buy the product. Vitamin C is unstable and can deteriorate when exposed to light and air, therefore airtight and opaque packages are the best choices.