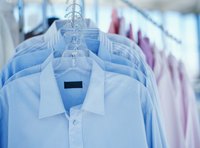 Colors have a way of changing a look from ordinary to professional. The style can be adjusted with just a few details. When pairing a navy blazer and khaki pants with the right top, the type of event you plan to attend makes all the difference. Make your color choices classic or trendy, with pastels and neutrals that take your outfit from ordinary to sophisticated.
For Work
A navy blazer is practically the staple of America's businesswear; khakis are a neutral that can be worn with any color, though with a navy blazer a lighter shirt is best. Keeping patterns to just one area gives you a crisper look. Wear a white shirt with a patterned tie to take your look from simple to polished. A pastel shirt, solo or with a tone-on-tone tie and red or brown shoes gives you a put-together look. Wear striped pastel shirts solo, or add a solid, deeper-color tie. Women's shirts can be blousy, a wrap style or a boat neckline for a fresh look. The contrast of a soft pastel blouse with a structured jacket has a classic appeal. Small patterns such as paisley or polka dots give a shirt or blouse a sophisticated side.
For Daytime Socials
Look official in a navy nautical blazer trimmed in gold braiding with gold buttons and outer pockets. Pair this jacket with a tailored white shirt or form-fitted blouse for the most refined look; accessorize with gold jewelry and black or navy shoes.
For Sporty Casual Wear
For men, a T-shirt or pullover in neutral light tones and pastel colors goes well with a navy blazer and khakis for a casual look. Small patterns or small checks are a classic combination for weekends. For women, wear a blazer with a striped T-shirt and khaki slacks, cropped pants or a skirt for a classic cruise-wear look, or don a red, cream, navy or white tube-top or crop-top for a more modern look. For summer, add a bright T-shirt such as aqua or orange with matching earrings or bracelet.
For a Trendy Look
A brightly colored shirt worn with a striped tie, or a thin tie over a pastel shirt, adds a little style to your navy and khaki combo. This mix is best for social events or an informal work environment. For women, a frilly blouse with a wide, metallic cinch belt and metallic shoes and bag adds a playful edge.