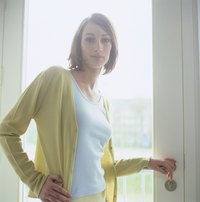 With its bright, sunny hue, yellow can be a tricky color to wear. However, a yellow sweater can actually become a versatile part of your wardrobe, easily transitioning from fall to spring by switching up the rest of your outfit. If you're unsure what to pair with your sweater, consider the shade of yellow and how bold or subtle a look you want to find the ideal pieces to complement it.
Go Fresh
With a lightweight sweater in a pale yellow, keep your look fresh and soft by pairing it with other light shades. Pair a V-neck sweater in a butter shade with white trousers or skinny jeans for an ideal spring look. A pale-yellow cardigan also works well over a white eyelet sundress or sheath dress for an outdoor party. If you prefer a more colorful look, try other pastel shades with your light yellow sweater. Purple is opposite yellow on the color wheel so they create a striking pairing -- wear your sweater with a lilac tank top or a lavender skirt. Light blues also work well with pale yellow, so wear your sweater with a pair of sky blue capris for the ultimate early-spring ensemble.
Go Casual
When you want to use your yellow sweater as part of a comfortable, casual outfit, pair it with denim. Whether light or dark rinse, denim functions as a neutral so it works with any shade of yellow -- from the palest butter shade to the brightest lemon. Wear a long yellow tunic sweater with a pair of skinny jeans or jeggings and boots when you're running errands or meeting friends for a quick lunch. You can also wear a thin yellow sweater beneath a denim jacket or blazer when the temperature starts to drop. In warmer weather, pair a lightweight sweater with a denim pencil skirt and wedges or denim shorts and sandals for a flirty, informal look.
Go Neutral
For the office, pairing a yellow sweater with neutral shades is an easy way to look polished and professional. While black is usually a go-to neutral, it can be tricky to pair with yellow because it can create a bumblebee effect if you're not careful. Black works best with pale yellow or rich gold shades -- wear these with black trousers or a black pencil skirt and heels. If your sweater is a bright, vivid yellow, swap black for gray instead.
Go Warm
In the fall, pairing your yellow sweater with other warm, autumnal shades creates a rich, sophisticated look. Wear a gold sweater with chocolate brown trousers for the office or a mahogany corduroy skirt on the weekend. Golden yellow also pairs well with deep red shades so try your sweater with cranberry or wine-colored skinny jeans for a comfortable, casual look. Rich orange shades also complement a golden-yellow sweater -- pair yours with a burnt-orange suede skirt and boots for a sleek fall look.