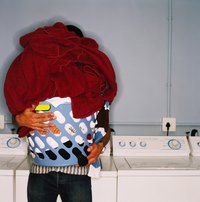 Anyone who's ever tossed a red shirt into a load of white laundry by accident knows the curse of unintentionally pink socks. New clothes often have excess dye that needs to be washed out, so it's especially important to wash them with like colors. Separating your laundry and washing it correctly helps keep all of your clothes looking their best.
Dye Bleeding
Brightly colored clothes may leech a bit of dye into the wash water the first few times you launder them. For best results, wash new clothes with other garments of the same color; that way, it won't matter if they bleed. According to dye expert Paula Burch, the type of dye used determines whether or not it will bleed. Fiber-reactive dyes, the kind used to dye plant fibers such as cotton, linen and hemp, are the most likely culprits for bleeding. Burch warns that clothes dyed with fiber-reactive dyes need at least two hot washes with detergent to get rid of excess color.
Shrinkage
While cotton clothing may require at least two hot washes to avoid bleeding, hot water can shrink plant fibers. Your best bet is to always sort your laundry and wash like colors together in cold water. White clothing, on the other hand, often needs a hot wash to remove stains. Whites such as T-shirts, underwear and socks tend to be the garments worn closest to the body, so they can become stained with sweat and body oils. Chlorine bleach helps restore their brightness, but it can wreck colored clothing. Wash your whites separately from your colors, and use an oxygen bleach, borax or washing soda if you don't want to take a chance on chlorine bleach splashing.
Sort Laundry
For best results on laundry day, read the labels in every piece of clothing. Wash colored clothes in cold water with a color-protecting laundry detergent. Launder delicates, such as lingerie or knits, either by hand or on the gentle cycle with a detergent made for fine washables. Place bras and stockings in a mesh zipper bag to keep them from becoming tangled with other clothing. Save the hot water for whites and heavily stained items; most clothing will get plenty clean in cold water, and will last longer, too.
Handwashing
For delicate clothing such as sweaters, lingerie and handmade items, hand-washing is the way to go. If you use the right detergent and allow your clothing to soak long enough, hand-washing will get garments clean. Fill a sink with lukewarm water and just enough mild detergent to make suds. Soak your garment for one hour, then rinse it in cold water until the water runs clear. Roll it up in an old bath towel to absorb excess water and hang it to dry. To prevent color fading when drying in the sun, turn the garment inside out before you hang it.