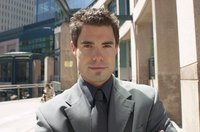 Men have numerous fashion rules to follow, depending on the venue. From business to the beach, unofficial dress codes exist that determine what clothing is sensible and what is not. Although these rules may not break any new fashion-forward ground, they do help ensure men look classic and appropriate regardless of the situation.
White and Black Tie
White tie and black tie are interchangeable in most cases. The dress code here is strict: black or midnight blue tuxedo or tails, with black bow or straight tie and cummerbund. White-tie events mandate a white pique vest. Shoes are black, plain and polished to a high sheen. White tie is also commonly used in referring to formal events and carries the same requirements for men outside of changing the tie color. White tie actually is considered more formal than black tie. Even accoutrements such as watches and jewelry are minimal or missing entirely, in keeping with the sleek and understated look black tie implies.
Formal
Formal can be a confusing dress code, since the definition has expanded somewhat beyond black tie to a dark suit. In most cases, however, black or white tie is specified. If a formal or "black tie optional" dress code is stated on an invitation, think dark suit with conservative shirt and tie -- preferably in a dark or muted tone -- if you opt against a tux. Formal dress includes polished black, brown or cordovan lace-ups, while add-ons like pocket squares and cuff links should be used sparingly, if at all.
Business Casual
Most modern offices outside the legal and financial sectors routinely use a business-casual dress code. The format is similar to formal, sans coat and tie. Replacing these elements can be something as simple and polished as a v-neck cashmere sweater with an Oxford-cloth buttondown shirt. Some environments extend this meaning to include loafers and khakis, but should never be construed to mean sneakers or jeans unless specifically stated.
Chic
Chic simply means polished. Men might see invitations specifying terms such as "evening chic," "casual chic" or "cocktail chic." Generally, the term is applied to social events such as art gallery openings or open houses. Here, the goal for men is to look good and well put-together, but a coat and tie are not always required or implied. Dark denim and a black, tucked-in buttondown shirt work well, as does a simple navy blazer with trim chinos. The look is essentially a hybrid between business casual and what a man might wear to a club. When in doubt, wear a jacket appropriate for the season. Leave the polos, shorts, sandals and trainers at home.