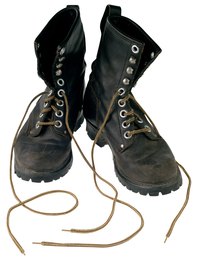 Leather boots, just like leather couches, shoes and gloves, can dry out. Leather normally has natural oils that keep the material supple, but this is not self-regenerating. Leather boots must be treated and conditioned on a semi-regular basis to ensure that they do not become hard, stiff and even cracked over time.
Water Damage
Getting boots wet effectively washes away the essential oils contained in the leather. As water dries, all that is left behind are the minerals and contaminants contained within it. Over time, the combination of these things causes leather to get harder and, ultimately, brittle. Use mink oil or a silicone-based waterproofing spray on your boots. These products cause moisture to bead on the surface, giving you time to wipe it away or simply letting it run off.
Effects of Sunlight
Ultraviolet rays and heat ultimately dry out the oils in leather boots. In severe cases, untreated leather can get so dry that it becomes easily scarred and scraped, further breaking down the material. This can be compounded by repeated wet and fast-dry cycles, such as when saturated boots are left in the sun to dry, or placed next to a heater or fireplace. Use leather conditioners or mink oil to restore moisture in leather boots, especially work boots that require increased moisture resistance and restoration of natural emollients.
Harmful Ingredients
Although waterproofing sprays prevent spots and stains on suede and other kinds of boots, they also include silicon and alcohol-based propellants. Alcohol, as it dries, quickly extracts moisture in the boot leather. Over time, this can strip moisture from the leather. Use a cleaner with an integrated plastic brush that cleans away dirt and old waterproofing spray. These cleaners often contain moisturizers that soak into the underlying material, without negatively affecting the surface nap.
Alternative Treatment Solutions
Use natural home solutions instead of commercial products to keep leather moisturized. For example, rub in coconut or olive oil. Although these oils darken leather, they are effective at restoring natural moisture to the boot. Prior to treating the boots, rub them with a cotton ball and isopropyl alcohol to strip off any old surface oil and conditioners. Doing this opens the pores of the leather, making it more receptive to the infusion of moisture provided by these natural oils. Petroleum jelly is another excellent home-based treatment, ideal for sealing seams and stitching.