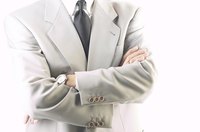 Whether it's ash, dove, silver or slate, a light gray men's suit lends itself to tons of occasions, from business meetings to breezy spring weddings. Just as the beauty of the classic gray suit lies in its versatility, there are many viable and fashionable options for shoes to go with it. No matter what style of shoe you choose, always coordinate your shoes with your belt or suspenders and make sure they don't clash with your shirt or tie.
Colors
Both black and gray shoes go with gray suits, but the best match depends upon the shade of gray you're sporting. Unlike dark gray suits, which look best with dark browns and black, light gray suits work with black or virtually any shade of brown. While the black-and-gray combo gives your ensemble a powerful, understated look, "GQ" sings the praises of brown, noting that it gives your gray suit "more potential in the patina department." Light brown shoes in shades of tan and ochre lend a more bold and casual flavor to your light gray suit, while contrasting dark brown shoes add a little more formality.

Traditional Styles
If you're going for a strictly business look, avoid business-casual shoes and stick with leather-soled styles. Shoe styles such as oxfords and loafers make your suit conservative and business-safe, no matter what shade of gray you're sporting. Rubber soles are acceptable for more casual wear, however, but it's best to stick with thin, unobtrusive soles whenever possible. For a springier and slightly more daring look, pair your light gray suit with loafers, moccasin-style dress shoes or wingtips.

Boots
Boots with a clean, dress shoe-like toe and thin sole can work with a suit, so don't count them out if you're expecting cold or rainy weather. Many light gray suits come in durable fabrics such as flannel, wool, corduroy or tweed. These sturdy materials give you the freedom to pair your suit with a tougher, higher boot. In this case, the right boots add a subtle element of ruggedness to your look. Lighter fabrics such as linen and cotton, as well as very light shades of gray, call for less-substantial boots such as ankle boots or Cuban heels, the latter looking particularly nice in black.
Taking Style Risks
As the clothiers at Beckett and Robb point out, "Style is written in pencil, not ink." You know the basics: Don't pair your light gray suit with shoes of an identical shade, don't mix and match accessory colors, and so on. Outside of the timeless rules, feel free to experiment with your shoes. Give your light gray suit the slightest touch of flair with cap toes, brown suede or monkstrap shoes. If you're feeling particularly bold, go Elvis-style and pair a cool gray suit with navy suede shoes and a matching tie. Try the sockless look in brown leather loafers at a summer event. Don't fear texture. Especially if you have a pair of brown shoes with fine detail, such as brown wingtips -- pairing texture with a lightly textured gray suit can look absolutely striking.