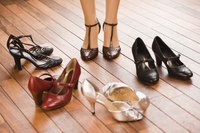 Wearing pastels often leads to confusion when it comes to picking out the perfect pair of shoes that will complement your outfit instead of compete with it. Your usual go-to pair of black patent leather heels are out of the question when you're donning a muted pastel palette. Fortunately, a pastel wardrobe actually opens up a wealth of shoe opportunities. Venture beyond your best and blackest pair of pumps -- this is your feet's chance to shine.
The Pastel Color Palette
Pastel means a soft and delicate shade of color. The words "light" or "baby" preceding a word -- such as light pink or baby blue -- generally describe pastel colors. Pastel shades range in color and are muted in tone from minty greens to lavender, off white, and even grays and beiges. Every color -- except for black -- has a pastel counterpart. Red becomes dusty rose or blush; orange translates into a light coral; a pastel yellow is less vibrant than a "sunshine" shade; green enters a minty realm; blue can be faded into a multitude of pastels; and purple pastels include lavenders and lilacs.
When to Wear Pastels
Pastel colored clothes tend to be associated with the warm weather in spring and summer. Pastel dresses are often adorned with floral patterns; they are available in a variety of fabrics ranging from silk to cotton and lace. Ladies often don pastels to baby and bridal showers, afternoon teas, garden parties, luncheons, birthdays and other festive occasions. Pastels are widely acceptable attire during holidays such as Easter.

Black Patent Leather Heels
Black patent leather heels often clash with pale dresses and draw the eye downward to the feet, which isn't the natural focal point. Black patent leather is a dark and heavy material, whereas pastel colors are light and bright and look best when accompanied by a shoe in the same color family or in a non-competing color family. The same color family doesn't mean an exact match, rather a different hue in the same shade.
What Shoes Best Accompany a Pastel Dress?
If you're wearing a baby blue dress, shoes that are navy or royal blue will add a pop of color to your look without looking forced or mismatched. An eggplant-colored shoe complements a lavender dress. Alternatively, nude, grey, gold and silver are also complementary colors to the pastel family. For an outdoor event, try nude heels in patent leather, suede or smooth leather, to elongate the legs and allow the pastel dress to be the focus of attention. For fancier occasions, slip into a pair of metallic shoes, and don't shy away from jeweled or embellished kicks -- they'll add an instant pick-me-up to your outfit.