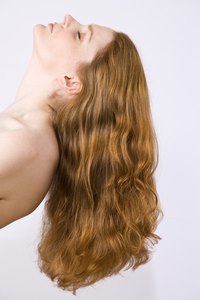 Hair extensions are increasing in popularity, in large part due to many Hollywood actresses adopting the trend. Today, hair weaves or extensions are more affordable, and many people adopt weaves as a way to change their style or thicken thinning hair. Many stylists offer extensions as part of their repertoire of services. Since applying hair extensions usually does not involve chemicals, many people may assume they do not need a license to apply hair extensions to a client's hair. If you reside in the state of Virginia, though, you will need a license to apply hair extensions.
Hair Extensions
There are many different types of hair extensions and ways to apply them. Hair extensions allow people the option of playing with color, style and length of hair without altering their natural hair. Stylists who specialize in applying hair extensions must be proficient in many different techniques of application, such as bonding, weaving and fusing. Clip-in extensions allow you to do it yourself, without the need for a stylist.
License Needed in Virginia
The state of Virginia requires a cosmetology license for anyone performing hair services, including hair extensions. In the state of Virginia, hair extensions fall under the category of wigs and hair pieces. In order to obtain a license, an applicant must complete 1,500 hours of training before taking the state exam. The Board for Barbers and Cosmetology in Virginia will accept out-of-state applicants who submit proof of training at an accredited cosmetology school. The exam consists of two parts, written and hands-on. If applicants pass one part of the exam but not the other, they only need to retake the part they failed. There is a fee for the exam, which varies by testing site.
Out-of-State License Holders
Stylists holding a license from another state must still obtain a license before practicing in Virginia. They do not have to sit for the exam; however, they do have to submit a formal application to the Board for Barbers and Cosmetology. Their application must include proof of certification from a training program equivalent to Virginia state requirements and proof of successful completion of a licensure examination. If their paperwork is in order, they will receive a Virginia license without sitting for the exam. It is important to note that in the state of Virginia, cosmetology licenses are good for only two years, and they must be renewed.
Virginia Resources
If you do not currently hold a cosmetology license in the state of Virginia, you may want to visit the Beauty School Directory website for information on cosmetology school in Virginia that will properly prepare you to sit for the exam. The Virginia Department of Professional and Occupational Regulation also maintains a published list of cosmetology regulations on its website for those interested in obtaining a license. If you are a client seeking a salon for hair extensions, visit the Hair Extension Guide website for a list of salons in Virginia that specialize in applying hair extensions.