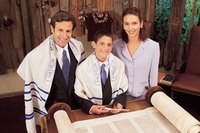 A bar mitzvah is a major milestone in a young Jewish boy's life. It's a chance for friends and family to gather to watch him symbolically enter into adulthood by leading all or part of the synagogue service. Female guests and family should choose dresses that strike the right balance between festive and modest. The bar mitzvah itself usually consists of a synagogue service in the morning, followed by a reception either immediately after the service or later in the evening.
The Synagogue Service
The classic sheath dress is very stylish right now, thanks in part to shows like "Mad Men." Fortunately, this is also a great choice for a bar mitzvah. You'll look sophisticated yet festive and modern yet modest. Pair your sheath with a skinny belt in a contrasting color and bring a cardigan. Subtle prints look fantastic, but stay away from bright reds and neon; you don't want to steal the show. A black sheath is a solid choice, but wear colored shoes or jewelry in order not to look too somber.
The Reception
When the reception immediately follows the service, you can wear the same dress you wore in the morning. For an evening reception, check the invitation for the proper attire. If it isn't specified, get clues from the venue; is the venue formal or casual? Formal doesn't necessarily mean floor length gowns; wear a dress with beaded or sequined embellishments or try chiffon in a pretty color. For a more casual event, dress up a sundress with wedge heels or pair a sweater dress with boots if it's cold.
Teenagers
For teenagers, a bar mitzvah is a major social event, so you'll want to look your best. Choose a dress that is stylish and young without being too flashy. Floral print dresses with a 1950s inspired cut strike the right balance, and can be paired with a solid cardigan for modesty. A dress with ruffles around the neckline or hem is also trendy but sophisticated. Make sure your skirt is not too short; because you're likely growing rapidly at this time in your life, don't pick a skirt too far in advance.
Orthodox Congregations
Many Orthodox congregations request that women observe traditional rules of modesty. This means that women should wear skirts past the knee and blouses past the elbow, and they should avoid showing cleavage. When in doubt, err on the side of modesty, and ask a friend or acquaintance who attends the congregation what she usually wears. The 1070s style maxidress is back, so make it modest by covering your shoulders with a cardigan. Women should avoid wearing pants to Orthodox synagogues.