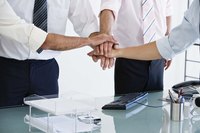 The 25th anniversary of an organization is a major milestone. It provides an opportunity to celebrate the journey so far, reinforce the strengths of the company culture and communicate vision for the future of the company. A focus on the hardworking employees and a balance of fun and substance are important for a successful celebration.
Stories of Victory
The 25th anniversary is a time to share and celebrate success. Share "stories of victory" to put the focus on individuals and the experiences and achievements they want to celebrate. Recruit people ahead of time to tell their stories or inform the staff that it will be like an "open mike" night, with a clipboard where people sign up for slots and a limit of a few minutes per person. Set aside 45 minutes or an hour to hear stories of success in both business and personal lives.
Mass Awards
Instead of the usual corporate plaques and trophies, you can give the front-line workers a voice by creating a setting for an all-night mass award swap. Give each person about five pin-back buttons when they first come in, each representing a different award or accolade like "favorite co-worker," "brilliant ideas," "hard worker" or "truly kind person." Throughout the night people can reward each other by pinning buttons on the co-workers of their choice, providing a visible, evolving collection of awards as the celebration progresses.
Help the Community
Use a 25th anniversary to celebrate and serve your local community. Run a charity drive during the event or spend some time picking up trash, handing out frozen treats or even giving wrapped gifts to strangers in the neighborhood. Even half an hour at the beginning of the party is enough time for a significant impact if everyone participates.
Leadership Karaoke
Karaoke has a nearly unique ability to break through the social awkwardness of a party full of acquaintances and begin to help people bond. Even so, it can be hard to get the ball rolling. Start with the CEO performing karaoke and work your way down the corporate ladder to loosen up the atmosphere and help others warm up to the idea. Nothing demolishes corporate stuffiness like the CFO and the head of human resources singing a soulful duet together.