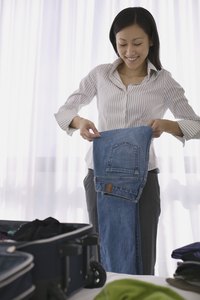 The proper folding techniques can help pants to retain their polished appearance after they have been dry cleaned, laundered or ironed. Freshly folded trousers also maximize space, as folding methods can help reduce a garment's bulk. There are many garment-folding tactics that can be employed, as style can influence the techniques. Common methods include tactics for trousers, denim and travel folding.
Creased Trousers
Business slacks and tailored trousers that feature a crease are often folded using a method that maintains the integrity of this design feature. Pick up the garment by its hem or cuffs, hanging it upside down. Match the side seam to the inseam on both pant legs, and as a result the pant leg should begin to fold along its center crease. Lay the garment on a flat surface before smoothing out air bubbles. Pinch along the crease, which should run from the hem to the waistband, keeping it straight. Then, fold the pants in half, from hem to waistband.
Relaxed Slacks
Tailored pants that do not have a crease can be folded using a different method. First, lay the garment flat, front-side up. Next, fold the slacks in half, one pant leg over the other — the side seams should be on top of one another. Run your hand over the trousers to remove wrinkles and undesirable bunching. Divide the trousers into thirds, from waistband to hemline, before folding the waistband down and the hem up, creating a neat parcel-like shape.
Casual Denim
Before folding a freshly laundered pair of denim or khaki pants, tuck the pockets in, helping them to lie flat. Grab the slacks by the crotch area and fold the waist pant in half, so the back pockets meet. Lay the pants on a flat surface, with one pant leg on top of the other. Fold the crotch of the pant inward, until one straight line is created, from the waistband to the leg. Next, fold the hem of the pants up one third before folding the waist of the pants downward one third, finishing the folding technique.
Travel Folding
Travel folding is a technique used to help reduce the bulk in a suitcase. Similar to folding denim, the pockets are laid flat and the slacks are folded in half from the crotch to the waistband. Once the two legs are overlapping, smooth away any trapped air by running your hand over the length of the trousers. Finally, roll the pants starting from the hem to the waistband, and the garment is ready to be packed away.