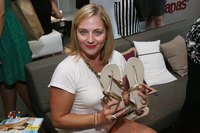 Havaianas are comfy and durable flip-flops that come in many bold and vibrant colors. Like any article of clothing, there comes a time where you need to clean them. Cleaning your Havaianas keeps them looking nearly-new and rids your flip-flops of dirt, debris and harmful bacteria.
Things You'll Need
Laundry detergent, preferably with bleach
Bucket of warm water
Cleaning sponge
Dish washing soap
Mix the laundry detergent with warm water in a bucket. Place the Havaianas in the bucket and leave soaking for 30 minutes. If they are especially dirty, leave them in the soapy solution for 45 minutes.
Rinse the flip-flops and scrub with the sponge.
Mix the detergent solution with warm water in a bucket. Drop your Havaianas into the bucket and leave them for another 30 minutes.
Rinse and scrub them again with a sponge until they are clean.
Leave your Havaianas out in the sun to dry.