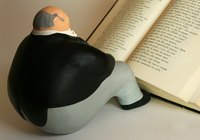 Double-chins can sometimes be a source of embarrassment for men. Some believe women will be turned off by a man with a double-chin, and feel the need to hide their extra fold, or at the very least show it in the best possible light. Such concerns are usually unnecessary, but there are a few ways men can distract attention from their double chin if begins to affect their self-confidence.
Things You'll Need
Wear V-neck sweaters and tee-shirts. The dip in the collar acts as an optical illusion, making your double chin appear less pronounced than it actually is. Avoid any round-neck Tees or sweaters. Tops with buttons also help to draw attention away from a double chin, so an open-collared shirt is a good disguising technique.
Grow a beard. The method favored most by men with a double chin, growing a beard will disguise the double chin completely. A few grey hairs in there and you will look positively dignified.
Chew gum regularly. Working out your jaw muscles will help you lose some of the fat build-up around the neck. Another method is to open your jaw as wide as you can, hold it for ten seconds and close. Repeat the exercise until your jaw feels tired. This works out the Platysma muscle in the jaw, and will tone up a double chin.
Engage in regular exercise. A double-chin is often a sign of general obesity and it is worth starting a regular exercise routine to ward off any of the health problems that come from being overweight.