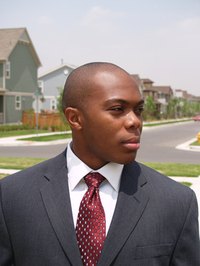 Sweat stains on your clothes are embarrassing and inconvenient. You constantly have to worry about keeping your arms down at your sides because of them. They can also be incredibly costly when they occur on suit jackets because typically, they must be professionally cleaned or replaced altogether. Fortunately, you can effectively remove sweat stains from your suit jackets at home.
Things You'll Need
White vinegar
Measuring spoon
Determine if the stain is from sweat or deodorant. If the stain has a yellow or greenish color and leaves the fabric feeling crispy, it was caused by sweat. If it has more of a white color and feels greasy, it's from your deodorant. For sweat stains, use the vinegar and water solution described in the following steps. Deodorant stains, on the other hand, should be treated with a gentle solvent that works on grease.
Mix the vinegar and water together. Use the ratio of two tablespoons of vinegar to every one cup of water. If you're just treating one suit jacket, one tablespoon of vinegar mixed into half a cup of water should be plenty.
Turn the jacket inside out and apply the solution to the sweat stains. Allow the solution to soak for about 30 minutes before you put it into the washer with cold water and regular detergent.
Wash the jacket on the gentle cycle. Because suit jackets have a set structure to them and are typically made with some delicate fabrics, you want to ensure the jacket keeps its shape and doesn't get tossed around too harshly.
Remove the suit jacket from the washer, and air-dry it on a drying rack. Otherwise, hang it in a well-ventilated area, or lay it flat to dry on top of a clean towel.