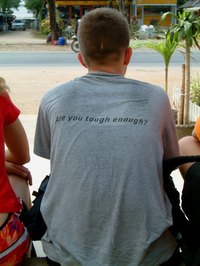 Make your own T-shirts at home with fabric markers, following the same technique as coloring on paper. Fabric markers are simple enough for children to use. These types of markers are designed especially for painting on textiles, such as cotton or denim. Purchase a T-shirt and a few colors of fabric markers for an inexpensive craft project. Add the names of loved ones, and outline hand prints for a keepsake T-shirt, or design your shirt for a special event or the holiday season.
Things You'll Need
T-shirt
Cardboard or newspaper
Pencil
Masking tape or stencils (optional)
Fabric markers
Iron and freezer paper or clothes dryer
Draw your T-shirt design on a sheet of paper, or create your design using a computer and print out your pattern. Decide which colors you will use for different lines or words and indicate these colors on your design.
Lay the T-shirt out on a flat, hard surface with the side of fabric you will paint on facing you. Insert the cardboard or newspaper in between the layers of fabric to prevent the fabric markers from bleeding through to the other side as you paint.
Place your hand drawn or printed design beneath the fabric surface and trace your design using a pencil.
Create geometric shapes, patterns, zigzags or straight lines by placing strips of masking tape directly on the surface of the fabric for your design. Use the masking tape as a stencil as you draw along the edge of the tape onto the T-shirt. Complete the outline with the fabric markers, then remove the tape and fill in the center of the design using the markers.
Draw onto the surface of the fabric with the fabric markers by following the design you have placed beneath the fabric.
Allow the paint to dry according to the packaging on the markers. Remove any stencils, patterns, masking tape or cardboard before setting the color with heat.
Set the T-shirt design to prevent fading or bleeding of color made using the fabric markers. Heat an iron onto the cotton setting and place a sheet of freezer paper over the design; rub the iron over the design for four minutes. Use a clothes dryer in place of the iron by drying your painted T-shirt on high heat for 30 minutes.