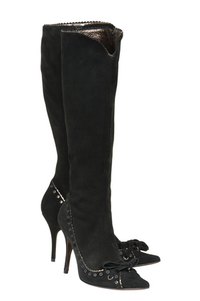 So you couldn't take your eyes off of those suede boots in the store window and bought a pair. You may not be sure what to wear it with, but the good news is that suede boots can be worn virtually anywhere. Suede adds softness and feminity to your look. The material is also great to keep your feet warm in cold winter temperatures. Be sure to spray your boots with waterproof spray as excessive water will ruin suede. Although good for cold temperatures it is not a snow boot meant for snow. Avoiding wearing your boots when snow is falling or it is raining if you want your suede boots to last for a while.
Things You'll Need
Waterproof suede spray
Leggings, various colors
Tights, various colors
Skinny jeans, any wash
Wear knee-length suede boots with matching tights and a long top such as a tunic. Matching tights give off a sophisticated look, especially with black, brown and gray boots. Wear a belted trench coat over your dress or skirt for a stylish look. Suede boots that go all the way up to the knee or over the knee are best worn in the evenings to a party. Pair with a plain loose top and short shorts for a bold look. Over-the-knee boots make a statement on their own so don't add extra embellishment. You can pair them with a short dress or a form-fitting skirt.
Keep your body in proportion when wearing suede ankle boots. Ankle boots allow you to show off your legs. Wear a pair of tights and a mini-skirt or dress. Too keep your body proportions from looking awkward when wearing suede ankle boots, wear a higher skirt for boots that sit above your ankle and a slightly longer skirt if the boot is at or below your ankle.
Wear skinny jeans with suede boots of any style. No matter the color or length of your boot, skinny jean pair well with suede boots; denim and suede complement each other.
Wear black or muted colors if you are wearing a bright suede boot. Colorful boots are bold and the attention should be on the shoe, so tone down the rest of your outfit to let the boots stand out.