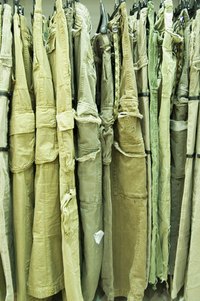 Pants are often made too long to wear without some alterations to the hems. Doing the alterations at home saves time and money, and is not difficult to do with a little time and patience. A blind stitch hem is a type of hem that is invisible from the outside of the pants. It can be done by hand or with the aid of a sewing machine to create a look that is classy and elegant. Men and women can both use the blind hem to stitch when altering pants to make them shorter.
Things You'll Need
Remove the existing pant hem using seam rippers. Be careful while doing this so that you do not rip the fabric.
Fold the hem under one-half inch and press with an iron to keep it in place.
Try the pants on and fold them under to the length that you ultimately want them. Make sure to do this while wearing shoes that are the height you will wear with the pants. The pants should not touch the ground, but be careful not to fold them too high either.
Pin the pants under using sewing pins. Take off the pants.
Lay the pants onto a flat surface and check the pins to make sure that you have an even fold. Adjust the fold to make it straight and even if necessary. The pants should now be folded under twice. Sew the blind stitch with a sewing machine or by hand.