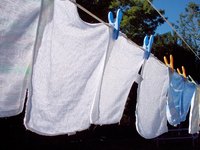 The coffee stain from breakfast, the sweat from the sticky afternoon heat and the dirt from the drive to work all work actively to stain and dim the bright white color of your dress shirts. Buying new dress shirts every time they get dirty is costly and unrealistic, but you want your whites to look white--not yellow, gray or white with a red ketchup blob. You can whiten most dress shirts at home with very little expense.
Spray your dress shirt with a mixture of water and detergent as soon as you change out of it. Liberally soak any stains or discolorations. When you are ready to wash a load, place the dress shirt into the washer with other similar clothing. Consider soaking your dress shirts in a mixture that is half water and half hydrogen peroxide for maximum effectiveness.
Turn the temperature on your washer as high as possible after checking the recommendations on the tag of your dress shirt. Hot water helps the laundry detergent work more effectively to whiten and brighten your clothes.
Pour a stain removing detergent that is not bleach based into your washer as you normally would. Although bleach is often a first resort for stain removal, it also leaves clothing looking yellow and faded. Consider adding one cup of white vinegar to your load, or sprinkling baking soda over top of the laundry for additional whitening.
Hang clothing in the sun to whiten and brighten the shirts. The sun will help fade any marks, and return the clothing to its original white color. Do not put clothing that is still stained or soiled into the dryer, as the dry heat will set the stains and make it nearly impossible to remove them.