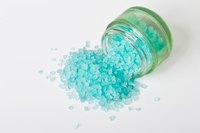 Handmade spa products can be as good as, or even better than, commercially produced goods. Beauty and bath products are always popular and they're relatively inexpensive to manufacture. A home-based business selling spa products can therefore be lucrative. Your own kitchen is probably already equipped with the paraphernalia you'll need and the ingredients are readily available, either in stores, or on the internet. There are a number of good strategies for creating spa products for profit.
Learn about spa products; try various recipes and decide what types of products you want to sell. Probably the simplest to begin with would be bath salts, massage oils, lotions and soap. Once you've decided on your categories, think about what essential oils and other ingredients you want to incorporate into your products. Do you want them to be light and fruity? Should you use oatmeal or another exfoliating ingredient? Are you particularly interested in the classic rose or lavender fragrances? Will you use herbs and essences for their medicinal values? Experiment with recipes until you discover the ones that work best for you, and then make them.
Package your products in attractive ways. Appearance is important, so you should pay careful attention to detail. You can wrap bars of soap in cellophane and tie them with ribbons. For a professional effect, you can also shrink wrap them in cellophane. Little organza drawstring bags from the dollar store are excellent for bath bags filled with herbs, flower petals, Epsom salt, oatmeal and other ingredients. Inexpensive boxes made for wedding favors can often be used, provided that the designs are generic. Your bath salts can look attractive in simple brown paper envelopes to which you've attached a pretty label. Other packaging ideas include attractive glass bottles from a dollar store, small glass jars and wrapping made from pretty wallpaper. While none of this packaging is particularly expensive, it's important to remember to include the cost of packaging in the price of your product.
Choose a name for your products. This will be a main component of your business identity, so pick an attractive name that people can relate to and that you'll enjoy using for a long time. Once your business has begun, it'll be difficult and costly to change it.
You should also learn about legal issues at this time. If you're serious about creating a business, you should do so legally. Obtain the correct permits and licenses for your municipality and state. You may want to form a business entity. It's a good idea to seek advice from an attorney concerning the legalities of owning a business.
Create a website. Many sites offer free websites and no knowledge of HTML is required. They provide a perfect place to showcase your products; you can introduce yourself and add descriptions and photos of your work. The Internet Based Moms advise that through your own website, you're able to build an email list of people who are interested in your products. Once you've established an email list, you can send out a newsletter. Keep in mind, however, that a newsletter should be about more than just your business. Include other topics that are likely to interest your readers, such as uplifting quotes, health tips, giveaways and recipes.
Promote and sell your spa products in ways that suit you. There are many ways of promoting them, such as using the internet for social networking, or selling on websites such as Etsy, Ebay or ArtFire. You can also throw spa parties, sell your wares on consignment in day spas, health and beauty stores, or you can sell in craft markets. If you attend business networking events, you'll be likely to meet people who'll benefit your business.