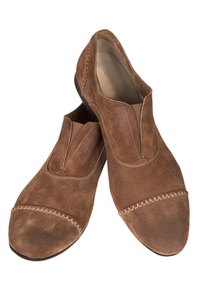 Suede is the soft material made from leather that is commonly used to make shoes, handbags and jackets. If you have ever worn your suede shoes in the snow you know that their butter-soft feeling can be lost very quickly. Snow leaves unsightly marks and spots on suede that require cleaning if you want your shoes to look new again.
Things You'll Need
Suede brush
Suede eraser
Water
Take off the shoes and use a suede brush to loosen any dirt stuck to the suede. Work slowly and brush with the grain of the suede.
Brush away the dislodged dirt. Pass the suede brush over the marks again to remove any remaining dirt.
Rub a suede eraser over the marks until you are satisfied with the look of the shoes. Be gentle to avoid packing down the suede's nap.
Dab stubborn snow marks with a mixture of equal parts water and vinegar. Gently wipe away the mixture with a soft dishcloth. Let the shoes air-dry before wearing them again.