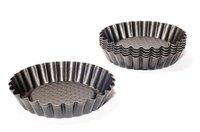 The art of baking is both an act of meticulous science and an act of love. Turning ordinary wheat, flour and yeast into a loaf of fragrant bread with a crackling crust requires patience and skill. Whether you like to bake once a week or run a professional kitchen, you will need to purchase the right supplies to help you achieve your goals. A well-stocked pantry is essential for any baker. Finding quality supplies that won't empty your wallet is easier than you might think.
Determine what items you need to purchase. Take careful inventory of what you already have on hand and what you need to buy. If you are just starting out, you may need a detailed list of exact items to purchase with precise specifications.
Obtain wholesale purchasing rights. One of the best ways to get a discount on important baking supplies is to get a federal tax identification number. An FTIN is available from the IRS website. The number identifies you as a professional. Use it to separate your business expenses from your personal expenses.
Join a professional trade group. Bakers can join many trade-related associations, including the American Bakers Association, the Retail Bakers of America and the American Society of Baking. Joining gives you many advantages, including access to networking with other members and potentially lower costs as a result.
Join a warehouse club. Warehouse clubs offer wholesale savings to members for a small fee. Bakers who work with smaller quantities may find this a valuable option. Look for warehouse clubs that have a dedicated baking aisle.
Visit your local food supply warehouse. Many larger cities have large shops that cater largely to industry professionals. Bakers will find aisles of both edible supplies and tools typically used in baking. Some warehouse stores require that all buyers have an FTIN, while others admit members of the general public. Some food supply warehouses do business online as well. If you purchase online, make sure you have the exact specifications of the items you are buying, and consider the shipping costs.