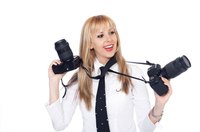 Selling photographs through a stock photography company allows the photographer to concentrate on taking pictures while the company manages marketing and sales. In most cases, a stock photography company can use a wide variety of photographs to support an eclectic client base. In some cases, however, the stock company is specialized and will only accept photographs from within a narrow subject field. In either case, quality photographs that present sharp, clear, vibrant, technically excellent images combined with imaginative compositions and a large number of submissions are what a stock company is looking for the photographer to provide.
Prepare a portfolio of your best 50 photographs. Ensure that all photographs are in sharp focus, clearly define the subject (good composition), possess excellent color saturation and are free of dust, scratches or other defects.
Save all portfolio photographs using lossless compression such as TIFF, PGN or JPEG2000, and do not re-size the photo. You may change the format from RAW but do not enhance or replace colors, change the contrast or adjust levels. Most stock companies want photographs that are untouched by graphics programs, so make the photograph in the camera, not on a computer.
Contact several stock photography companies and submit your portfolio for their review. In some cases, you will need to submit a CD or DVD containing your portfolio. In other cases, you will be allowed to submit your portfolio over the Internet. Follow the submission guidelines for each company exactly as they request. Do not add any comments or captions to your photographs.
In most cases, after being accepted as a stock photographer you will be asked to provide a minimum number of fresh photographs over a specified period of time. In some cases, a stock company will not allow you to sell the same photograph through another company, so you will need to develop a good system to keep track of your photographs, including when they were submitted and which company is using them.
Constantly review your own photographs to ensure that they remain within the guidelines of the stock company and keep track of the photographs that sell. If a certain type of photograph is selling well, try and duplicate the subject matter or theme in a slightly different way or from a slightly different angle.