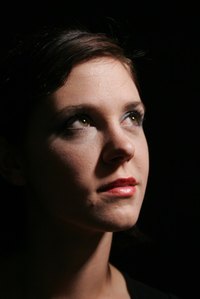 Losing weight is often a major step toward looking better and living healthier. However, major weight loss can result in loose, hanging skin. When this skin is around the neck, it may look like a double chin. One of the best ways to reduce this double chin is to firm up the muscles in the face and neck.
Chin Tilts
Tilt your head back in a slow, fluid motion.
Make a "kissing" face by puckering your lips. Try to stretch your neck and chin, but keep the rest of your face relaxed. The Facial Exercises Guide website recommends holding this pose for five seconds.
Return to your original position by slowly lowering your chin until you are facing forward. The University of Maryland website suggests completing five to 10 repetitions three times a day.
Head Rotations
Sit or stand straight so your spine is not bent.
Start with your head in the center and slowly rotate it to one side. The University of Maryland recommends holding the pose on one side for a moment before returning to the center.
Repeat the motion, turning your head toward the opposite shoulder. The website suggests performing five to 10 rotations on each side three times each day.
Chin Circles
Make sure your spine is straight. You may do this seated or standing, according to the Facial Exercises Guide.
Gently move your head in a circular motion, leading with your chin.
Repeat the rolling motion three to five times at least once a day.
Resistance Exercises
Put your hands on your forehead and move your head forward while providing gentle resistance with your hands.
Stay in the forward position for five seconds.
Relax your face and neck muscles for a few moments.
Repeat the motion in reverse by placing your hands on the back of your head and moving your chin upward.
Perform the motion on each side by placing your hand just above your ear and attempting to touch that ear to your shoulder. The University of Maryland suggests completing five to 10 repetitions on all sides.