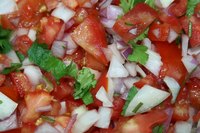 You have a salsa recipe that gets you invited to all the backyard barbecues; it is flavorful with just the right spice and texture. Everyone agrees that you should start selling your salsa. This sounds like a great idea but requires a lot of paperwork, legalities and regulations that most people are not aware of. A food processing business, even on a small scale, requires FDA approval. Taking your product to to the public requires jumping through all the legal hurdles in addition to the marketing bumps.
Taste test your salsa recipes on a variety of people, including friends, family, co-workers and neighbors. Provide people with a confidential questionnaire that gives you honest feedback on your salsa. Test both fresh and canned versions to see how the salsa stands up to canning. You need this feedback before you spend your time and money developing a new company and product.
Set up the corporate structure. Speak with a tax or legal adviser regarding the best structure for your company. Preferably choose an entity that limits your personal liabilities if you are sued for any reason. File the appropriate business organization paperwork with the Secretary of State where you live.
Register your food processing facility with the Food and Drug Administration (FDA). All processing facilities, even home facilities, must be approved prior to providing food products for public consumption.
FDA Industry Systems 800-216-7331 fda.gov
Write a business plan that includes a detailed marketing proposal. Decide whether you will target specialty shops, local grocers or institutional clients such as schools or hospitals. Getting your product into the market will be your biggest challenge.
Buy insurance for your company that includes errors and omissions insurance (E&O). E&O insurance is what pays for inadvertent problems such as a bad batch of salsa making a group sick. This insurance is vital to making sure your entire company doesn't get financially wiped out because of one error.
Find wholesalers for the food and packaging materials needed, as well as vendors for delivery. Shop around to get the best prices for the quantities you need.
Hire a graphic designer and web developer to create your company logo, business cards, product labels and website. Make sure you include the nutritional requirements on the label.
Get out there and let the world try your salsa. Consider taste testing booths in local grocery stores and farmer's markets. Have lots of salsa on hand for people to buy after they have tasted it. Be sure to let people know where to find your salsa regularly.