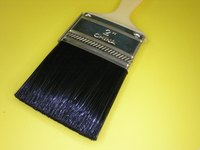 Whether you are opening a new restaurant or simply want to improve your eating establishment, painting the interior can make all the difference. Creating the right mood for your restaurant involves careful consideration of your target customers, color themes, furniture and the types of cuisine you serve. Diners will remember a restaurant's atmosphere more than the food, reports Michigan State University. Paint the interior walls to make your restaurant a place customers will return to again and again.
Things You'll Need
Paint
Sheets or plastic tarp
Screwdriver
Painter's tape
Spackle
Sandpaper
Rag or mop
Primer
Paint brushes and rollers
Trays or buckets
Select a paint color for the interior walls that complements the design, atmosphere, furniture and theme of your restaurant. Choose colors that will set the desired mood for your diners. According to Bloomsburg University, warm colors such as reds, oranges and yellows are stimulating and energetic, but cool colors such as blues and greens have a calming effect.
Determine the type of lighting you will put in your restaurant, because lighting affects the appearance of the paint colors and even the food. Low levels of light from lamps, hanging lights and candles create shadows and intimacy, while bright florescent lights provide a stimulating and fast-paced atmosphere.
Drape old sheets, blankets or plastic tarp over the restaurant floors, tables and chairs to shield them from paint splatters and spills. Unscrew the covers from electrical outlets and light switches with a small screwdriver. Cover the open outlets with painter's tape.
Remove the nails from any frames or wall art from the restaurant walls. Use spackle to fill in the gaps and holes in the wall. Rub down the spackled areas with sandpaper to create a smooth, even surface.
Clean off traces of food stains, dust and fingerprints from the walls with soapy water and a rag or mop. Paint the walls with a coat of primer. Primer can cover food and smoke stains on the walls, resulting in a uniform finish and giving your restaurant interior a more professional look.
Line the edges where the wall meets the trim with painter's tape. Paint window trims and moldings with a small angled brush for precision.
Pour your paint into shallow trays or buckets and paint the walls using a roller. "This Old House" magazine recommends dipping the roller halfway into the paint, then using a roller screen to wring out the extra paint from the roller before touching the walls. Let each coat dry completely before you continue to add new coats of paint until you reach the desired color depth and intensity for the restaurant walls.
Peel off the painter's tape slowly around the trim to avoid flaking off the new paint. Replace outlet covers, wall art and light fixtures.