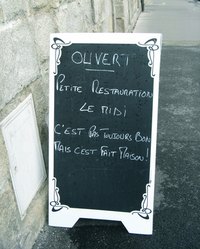 A menu board tells the customer what you are selling and how much the items cost. Without a menu board, customers are forced to ask questions, which they may find frustrating and can cause them to leave. Write out a menu board for in front of your restaurant that informs customers, yet also grabs their attention. "Ten Tips on Restaurant Sidewalk Menu Boarding" recommends highlighting cheaper dishes on the board and changing the items featured on the board throughout the day.
Things You'll Need
Copy of menu and specials
Set up the menu board on a flat surface. Print the name of the restaurant at the top in large, neat handwriting.
If your menu board will list the entire menu, write out each item clearly and neatly. The price should be clearly marked. Group like items together. For example, list all chicken dishes in one area.
For a special menu or sidewalk menu, select key dishes or specials. List the name of the product in neat handwriting. List the price in small text, but not too small to read. Choose an appetizer, entree and dessert for the board.
Set the menu board where guests will see it as soon as they enter the establishment. If the board sits outside, place it where pedestrians will easily see it.