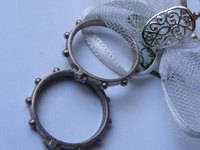 Wholesale ring companies are the link between jewelry buyers and retailers. Whether you want to sell high-end rings, fashion rings or artisan rings, opening a wholesale business can be very profitable. Starting this type of retail business can be done in many ways, and there are several different wholesale ring specialties to choose from.
Pick a niche for your wholesale ring business. You can sell sterling silver rings, rings made of precious gems or metals, plastic novelty rings or costume jewelry rings.
Choose a business model. You can either sell rings wholesale to retailers and act as a distributor, or sell rings that you buy wholesale to consumers. As a distributor, you will be required to carry more inventory, but as a retailer you will have to interact with customers and advertise to them.
Obtain the permits needed in your state to start a retail business. You may need a resale permit, tax identification number from your state, employer identification number from the IRS or a fictitious name certificate.
Secure a retail outlet, if you will sell the rings to consumers. You can open a physical storefront such as a mall kiosk, flea market booth or shopping mall, or launch an online store. Online storefronts include independent e-commerce websites, artisan marketplaces and auction websites.
Find a place to store your inventory of rings, if you will be wholesaling them or selling them via the Internet. A space free of dirt, dust, odors, sunlight and dampness, such as an empty closet or commercial storage facility, would work well.
Make a list of potential customers in your area, if you will be acting as a distributor of wholesale rings. This can include fashion accessory stores, clothing retailers and jewelry stores. Come up with wholesale pricing lists and send them to your contact list, along with the incentives of choosing your wholesale ring company over others.
Promote your retail ring business by starting a promotional blog or website, giving out exclusive coupons through a marketing newsletter and buying ads on forums, blogs and websites frequented by your target market.