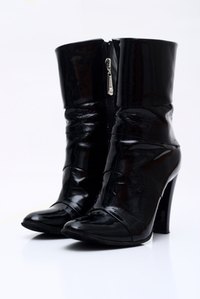 Patent leather's shiny, glossy appearance results from coating leather with plastic or lacquer. Patent leather is commonly used to make shoes, handbags and other accessories. Unfortunately, dirt and scuff marks show up prominently on the shiny surface. There's no need for specialized cleaning products; everyday products, such as isopropyl alcohol and dish soap, are safe to use. Follow with a light coat of mineral oil to restore shine.
Things You'll Need
Cotton balls
Isopropyl alcohol
Mineral oil
Dampen a cloth with warm water and add two or three drops of dish soap. Wipe the patent leather with the damp cloth.
Rinse out the cloth and wipe the patent leather to remove any soap residue. Dry the patent leather with a towel.
Apply a small amount of isopropyl alcohol to a cotton ball. Wipe away any scuff marks or stains.
Apply three or four drops of mineral oil to a dry, soft cloth. Buff the patent leather in small, circular motions to bring out its glossy appearance. Wipe away any excess oil with a clean part of the cloth.