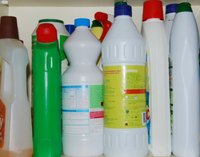 A cleaning company offers many opportunities for a hard working entrepreneur. A cleaning company can be started on a limited budget since there is a wide range of options for cleaning services. A home cleaning company would be an ideal option for a start-up company since you could start off with basic cleaning equipment and do the work yourself. As your business grows, you can expand to more help and equipment. Focus your business on providing a detail-oriented and efficient home cleaning business for people who are too busy or unable to clean their own homes due to health issues or disabilities.
Things You'll Need
Business plan
Legal/tax documents
Insurance
Cleaning equipment
Cleaning supplies
Transportation
Advertising
Research the market in your area. Look at the demographics and existing competition. Determine where you will market your services. Think of ways to stand out from your competition. Develop a marketing strategy based on your research and brainstorming. An example might be that you clean with environmentally friendly cleaning products.
Write a business plan based on your research. Define your business goals with a mission statement. Describe your business in detail. Include the areas that you will market your services, a description of your cleaning service plans with pricing, marketing strategies, and financial projections. Attach any documents that will be needed to establish your business at the end of the plan. The plan should detail the first year of your business. After a year, you will need to revise your plan to reflect your current business outlook.
Fill out and file a business and tax registration form, as well as other necessary documents, at the local and state level. As a cleaning business, you may be subject to local and state regulations such as permits or licenses to clean residential homes. Check with your local and state officials for requirements specific to your area.
Meet with a local insurance agent to discuss your options for insurance. Special considerations will include claims of damage to property by your customers or an injury that you might incur at a cleaning site. Describe your business in detail so that an agent can provide your business with adequate coverage.
Purchase your cleaning equipment and supplies. You will need an industrial quality vacuum, mop and pail, brooms, dust pan, whisk broom, and dusters. For supplies you will need cleaning agents, cleaning rags, sponges and extra mop heads. Additional cleaning equipment and supplies may be needed depending on your preferences for cleaning.
If you do not already own a reliable vehicle that is large enough to transport your equipment and supplies, then you will need to purchase or lease one. Base your vehicle decision on your business plan and budget.
Advertise your business in local newspapers and classifieds listings. Join your local chamber of commerce to take advantage of their collective advertising resources. Place sign on your vehicle to further get the word out about your business.