Teak wood is high in natural oils that make it resilient to water damage and rot. Teak is often used for outdoor furniture, railing, boat decks and other uses. Exposed teak will weather and gray. Teak should be cleaned annually to maintain a newer look. Teak is not normally finished with paint or varnish because the wood's high oil content will cause the finish to blister and peel. Applying oils or preservatives to teak may cause problems and increase the maintenance required for your teak.
(two pots image by Adrian Hillman from Fotolia.com)
Things You'll Need
Sponge or brush

Rubber gloves
Step 1
Make your own teak cleaning solution. Use detergent to make warm, soapy water. Use about 5 tbsp. detergent and 1 tbsp. bleach per gallon of water. Mix this well before applying it to your teak. Wear old clothing that will not be damaged by the bleach.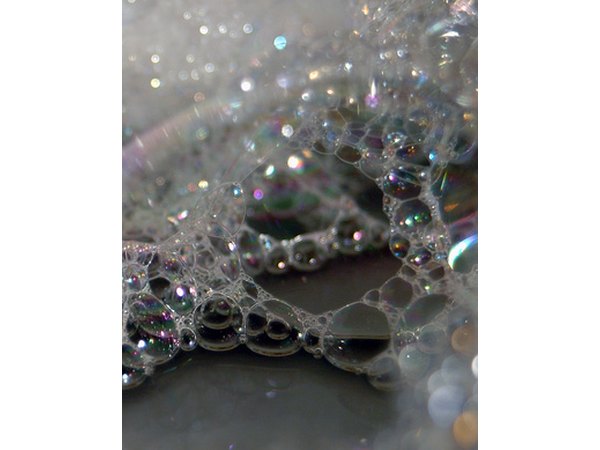 sudsy image by Micah Jared from Fotolia.com
Step 2
Apply the cleaning solution. Use a sponge or brush to work the solution over the teak. Make sure the teak is thoroughly soaked and then let it sit for about 15 minutes. Spend extra time on areas that are stained or discolored. Make sure the entire surface of the teak is exposed to the cleaning solution for a more even color.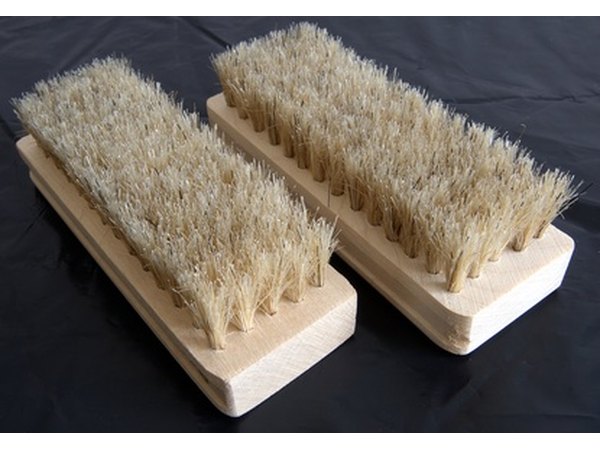 Brush image by Yuriy Rozanov from Fotolia.com
Step 3
Use fresh water from a hose to rinse the cleaning solution off the teak. Brush and rinse at the same time over discolored patches. Repeat washing with the cleaning solution and rinsing as necessary. Wash and rinse the teak in an area where the waste water will drain into a municipal water treatment facility when possible.
water hose image by tomcat2170 from Fotolia.com
Step 4
Apply a teak preservative. Products specifically designed for teak can be used to maintain the original color of the wood. However, these products require yearly re-coating. Make sure you get a product that does not first require stripping the wood, which can take a lot of time. Teak oils and preservatives may cause black mildew to form on your teak. Many people choose not to use preservatives or oils on teak. Research the product carefully before choosing and applying a teak oil or preservative.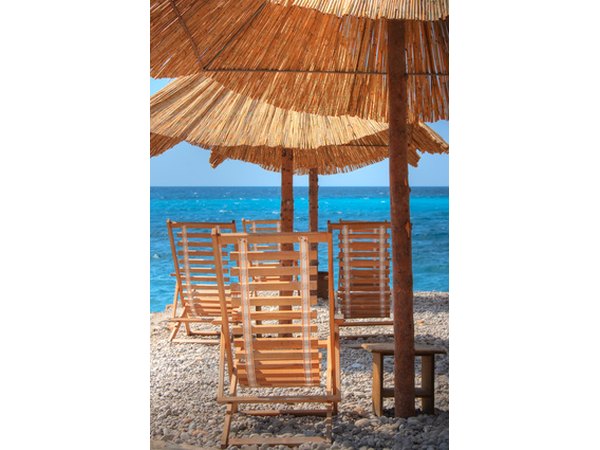 Umbrellas and deck chairs at beach image by Laser from Fotolia.com
Step 5
Apply a light stain to your teak. Stains are available to keep the color of your teak looking new without disrupting the surface or interior oils. Search for a product specifically designed for teak that does not require excessive maintenance and can be re-applied without stripping off the old finish.
corner of painted wall peeling and cracked image by Stephen Orsillo from Fotolia.com
Tips & Warnings
Commercial cleaning products are available if you do not want to make your own. Apply the solution according to manufacturer's instructions and then rinse. Some teak brighteners or cleaners are made to be applied in two different steps. Use rubber gloves to protect your hands when applying cleaning solution to your teak.
Promoted By Zergnet