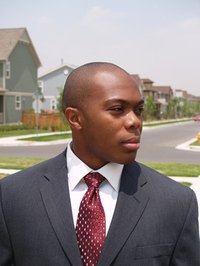 No matter if you are a man or woman, dressing for your body type is important to look and feel your best. Finding clothes that fit well, no matter what size or shape you are, will increase your confidence and minimize trouble areas while still wearing garments you feel comfortable in. Whether you like to stay casual or dress up, there are various tips and tricks for learning how to dress your body. There are four general body shapes for men: tall, heavy-set, short and muscular.
Tall
Avoid finding clothes that make you appear taller, such as tight-fitting clothing. If you are tall and where fitted garments, you may appear even taller. In addition, avoid vertical patterns, which will add to the illusion of height. Choose a horizontal pattern on a shirt, especially around the shoulders to make them appear wider.
Choose colored shirts to pair with dress slacks or jeans. Monochromatic colors from head to toe will make you look taller and slimmer. Pick out shirts that are fitted, but not too tight and not too baggy. Either of those styles will make you look too thin, since the fabric will either hug or billow out on the torso.
Balance out your height by choosing a shoe that is square-toed. This toe may be found with everyday and dress shoes, and will keep the leg from looking disproportionate from the leg. Pointed-toe shoes will make the leg look even longer, while rounded-toe shoes will not look proportionate with your long legs.
Tailor your suit to fit your body proportions. Choose a heavier fabric like wool or tweed, and request that the pants have a 1.5-inch cuff to add weight to the leg. Use accessories such as a pocket square or cufflinks to add detail to your suit.
Heavy-set
Avoid wearing baggy clothes, which can make you look even bulkier. Choose clothes that are form fitting, but not too tight. Clothing should skim over the body, so as not to draw attention to areas you feel self-conscious about.
Choose vertical stripes or patterns over horizontal ones, which may stretch across wider areas and look too wide. Vertical stripes elongate the body, drawing the eye from the shoulders down to the floor. Dark pinstripe suits are ideal, since they will slim the appearance of the body.
Pair darker pants with monochromatic shirts to slim the appearance of the body. You may use this either with casual wear or suits. Dark casual pants such as jeans or corduroys provide structure to the lower body, and the dark palette minimizes trouble areas or excess bulk. Wear a belt with your pants to narrow in the waistline.
Avoid choosing jackets that are double vented to avoid making the rear look too big or bulky. Double vented jackets have a slit up the bottom of the jacket in the back, and they draw attention to the backside. For men with a wide backside, a double vented jacket will add to the illusion of more width.
Short
Avoid clothing with large prints. Large prints on shorts or shirts will overwhelm the body, making it appear shorter. Choose smaller graphic prints in black and white to keep the design in garments but avoid looking shorter.
Choose shoes with a square-toe, which will add height to the leg without making it look too short and bulky. Avoid shoes that are too long and pointed, since it will not go with the proportion of your legs and will appear too long and narrow with your shorter legs. Rounded shoes will make your legs appear short as well, so square-toed shoes elongate the foot to add an illusion of longer legs.
Look for slim neckties when wearing a suit. The slimmer tie offers you the use of an accessory without becoming overbearing on the body. For many shorter men, short and skinny ties are most suitable for the body shape since they are appropriately proportional.
Muscular
Choose suit jackets that have minimal padding in the shoulder area. Since muscular men have a broad chest and shoulder width, jackets that have padding will increase the size of the chest and make the waist and lower body look too narrow. Muscular men should also look for jackets with a large lapel which will make the upper body look proportional to the lower body.
Wear pleated pants. Pleated pants offer more room in the seat area which provides more bulk to the hips and balances out the width of the chest and shoulders.
Tailor your pants if you have a muscular lower body and lean upper body. Waistbands should be comfortable and not too tight which will cause pockets to bulge at the hip area. Choose fitted jackets that do not have a vent in the lower portion of the jacket which can make the hips look even wider.