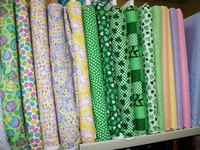 If you have an eye for fashion, interior design, craft and textile trends, opening a fabric store might be an excellent business opportunity for you to consider. Many different types of individuals use a variety of fabrics for various purposes. Fashion designers use fabrics to execute cutting edge designs. Interior decorators use fabrics for curtains, table clothes and refurbishing antique furniture. Other uses of fabric include making crafts, sewing personal clothing and creating costumes. Fabric stores either carry textiles to satisfy a wide variety of customers or specialize in a certain niche, such as bridal and formal wear.
Things You'll Need
Business plan
Business location
Textile inventory
Swatch books
Create a business plan. Before opening your fabric store, you should have a solid plan in place that provides you with a detailed description of how you will set up and run your business. Consider how much start-up capital is at your disposal and determine whether you will need to take out a business loan from a bank to get your fabric store off the ground. Identify your target customer. For instance, will you offer a wide variety of fabrics to suit the needs of diverse clientele or will you cater to a specific group such as interior designers? Additionally, Consider where you will locate your business, how much inventory you anticipate housing in your store, how much of a markup you will charge on your fabrics, and how you will advertise.
Purchase or rent your store location. Choosing a location that is highly visible will allow you to spend less on advertising. A great example of this is the trendy New York fabric warehouse "Mood" which is located in close proximity to the Fashion Institute of Design and Parsons School for Design. As a result, it is also featured on the show "Project Runway." Additionally, consider the projected price and square footage of the space and how each of those considerations fits in with your budget and business needs.
Order inventory and compile swatch books. If you have a physical store location with adequate space, offer fabric bolts and rolls in the store since many customers will want or need to make an immediate purchase. In addition to in-store inventory, offer swatch books for your customers to browse and order from in the event that nothing in your store meets their immediate needs. A swatch book looks similar to a photo album, but is filled with small samples or "swatches" of fabric. The fabric designer's name and price point should also be labeled next to the swatch. In general, fabric can be purchased from a fabric distributor. Distributors can be found online, at textile trade shows or in fashion, interior design and craft publications and magazines. Before ordering inventory, research fabric designs that are in high demand for the year and/or season--especially if you are targeting the needs of specific clientele.
Organize your store. You can't open your doors to the public if you have nothing more than an unorganized pile of fabric bolts lying about. You must arrange your store so that it will be appealing to customers and easy for them to navigate. If you offer of variety of fabrics for different purposes, organize according to purpose (i.e., clothing, quilting, outdoor) and then organize by color and type within each category. Additionally, if you offer swatch books, also have a comfortable location for your customers to views the books.
Advertise your fabric store to increase your client base. Newspaper and magazine ads work well for this type of business. Fliers, mailers and coupons mailed throughout the community will also bring in new customers. Also, consider hosting a presentation related to fabric and needle crafts at your store once a month to gain visibility.