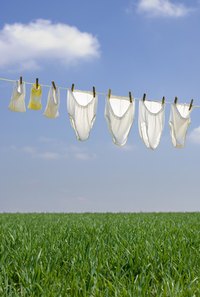 White clothing attracts dirt faster than any other colored garment in your wardrobe. The best stain removal process for your white outfit depends on the source of the stain and the fibers involved. While white wool, spandex and knits require a systematic method to remove dirt, you can clean soiled cotton fabrics with bleach and cold water. For the best possible outcome, treat the stain immediately at home or at a reputable dry cleaner.
Things You'll Need
Bleach
Hydrogen peroxide
Mild liquid soap
Prewash stain remover
White paper towel
Rubbing alcohol
Ice cubes
Dull knife
Dry cleaning solvent
Liquid enzyme detergent
Read the manufacturer's label closely and determine the stain type. Before treating a stain, review the label for suggested cleaning instructions. Grease, butter, blood, ink, perspiration and gum stains all require different cleaning processes.
Clean cotton, linen and washable white silk with bleach. Create a cleaning mixture of 1 gallon of cold water with 1/4 cup of chlorine bleach. Soak the garment in the solution for five minutes. Launder the garment following the manufacturer's cleaning directions.
Treat blood stains with cold water. Wash the stain in cold running water. Douse the stain with hydrogen peroxide for five minutes or until bubbles form on the stain. Rinse the blood-stained area. Apply mild liquid soap to remove any traces of the remaining stain. Rinse again with cold water.
Use a prewash stain remover to clean butter, grease or oil stains. Blot the stain gently with a clean white paper towel. Treat the stain with a prewash stain remover. Launder as usual using the warm washing cycle.
Remove ink or ballpoint pen stains with alcohol. Sponge an ink stain with rubbing alcohol for five minutes. Wash the white garment with 1/4 cup of bleach to remove the ink completely.
Rid whites of gum with an ice cube. Apply an ice cube to harden the gum. Scrape off the gum gently with a dull knife. Soak the garment in a dry cleaning solvent to loosen remaining gum fragments. Scrape the gum again. Launder using a warm washing cycle.
Use liquid enzyme detergent to remove perspiration stains. Apply the detergent to the stain. Soak the white garment in a basin filled with cold water for one hour. Wash in warm water to remove the stain.