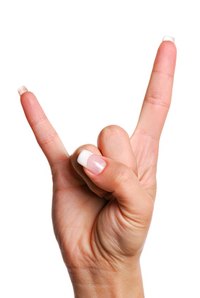 If you want the total heavy metal look, a heavy metal jean jacket is essential. Heavy metal jean jackets are nothing more than jean jackets that have been made over in the heavy metal style. This generally includes adding accoutrements like spikes, studs, badges and patches. If you're artistically inclined, markers and paint can also add a personal touch to your heavy metal jean jacket. No matter what your style, making a heavy metal jean jacket isn't difficult.
Things You'll Need
Patches
Needle
Thread
Leather punch or awl
Studs
Spikes
Badges
Markers
Paint
Center and sew on a back patch. Back patches are larger, taking up most of the center of the jean jacket's back between the two main seams. This is a place to represent one of your most favorite heavy metal bands.
Place other patches that you have around the jacket. Some popular places for patches on heavy metal jean jackets are underneath and above the back patch as well as the chest area.
Apply studs and spikes. Using a leather punch or awl, make a hole in the jacket and place your first spike. Place as many pyramid studs and spikes around the jacket as you like. You can even place studs and spikes around patches to hold them in place.
Apply badges. Get a good collection of heavy metal band badges and apply them to the jacket in places such as the lapel or around the hem on the bottom of the jacket.
Decorate the jacket using markers or paint. If you are artistically inclined, you can paint or draw band logos, heavy metal images or slogans onto your jacket. Depending on how artistic you are you can skip patches all together and decorate the jacket using nothing more than your creativity.