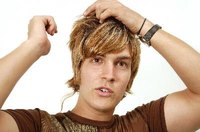 Putting highlights in your hair can brighten both your mood and your style but having it done at a salon can be expensive, so it's not always an affordable thing to do. There is a solution, though. You can get soft highlights in your hair and not have to go any further than your kitchen.
Things You'll Need
Lemons or pure lemon juice
Knife
Bowl
Spray bottle
Comb or hairbrush
Sunlight
Cut a few lemons and squeeze out the juice into a bowl. If you don't have lemons, you can also use pure lemon juice. Two or three lemons or about a cup of lemon juice will be plenty.
Mix the lemon juice with water. Use about one-third as much water as you have lemon juice (so for a cup of lemon juice, use a third of a cup of water).
Pour the lemon juice and water mixture into a plastic spray bottle.
Spray the mixture onto your hair for an all-over lightening. For streaks, spray it onto a comb or hair brush and brush it through your hair.
Go outside and enjoy the sun. The longer you are out, the lighter your hair will get.