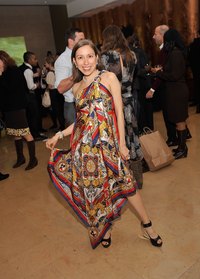 Scarves are one the most versatile accessories a woman can own. You can use a scarf to wrap your hair, embellish an outfit or add color to your purse. Grace Kelly used her Hermes scarf as a sling when she broke her arm. Large scarves can even be turned into a top or a sarong that you can wear at the beach. Just a few clever tucks and twists can turn a scarf into a halter dress.
Pull the scarf around you like you would with a towel. Make sure it comes up under your arms.
Pull the left side of the scarf to the right side, and pull the right side of the scarf to the left, so the two sides are crossing each other.
With the two sides still crisscrossed, pull the top corners toward the back of your neck so they are meeting at the back of your neck.
Tie the corners behind your neck into a simple knot. Your scarf should now look like a halter dress.