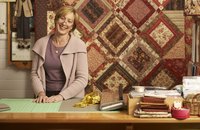 If you enjoy perusing magazines and blogs that showcase fine decor; are handy with a sewing machine; enjoy designing quilts, pillow, curtains and other furnishings for the home; and don't mind the uncertainty that entrepreneurship can bring, consider starting your own soft furnishings business. Turn your ideas and projects into moneymaking products, and enjoy doing what you love for a living.
Choose a name for your soft furnishings business—either a simple name, such as "Betty's Bedding," or a completely unique one. Grab a sheet of paper and write down every word you can think of that pertains to your business. Then see whether any of the words fit together to make a good name. Use a thesaurus to get even more ideas.
Once you have your business name, register it at your county clerk's office. This will enable you to get a federal employee identification number (EIN), which you will need for tax purposes. This number will give you the ability to write off supplies you buy, such as an industrial sewing machine.
Develop a line of products. Develop new lines for each season, and use seasonal colors. Plan ahead by researching color trends. Look through "Stahl's Color Forecast," "Premiere Color Trends" or one of the many other fashion forecasting publications to get clues as to what will most likely sell in the future. Peruse home decor blogs and magazines to get a feel for up-and-coming motifs, and work them into your designs.
Locate a reliable source for the fabric you will use in your line so you don't find yourself unable to fill orders. Your EIN will give you the ability to buy wholesale items when they become available. Buy large quantities at one time to avoid having to wait for shipping to fulfill orders.
Network with other designers, which will help you find reliable vendors and shorten your learning curve. Etsy.com provides a good resource for networking, as do professional organizations such as the Association of Sewing and Design Professionals.
Sell your products. If you want to keep your business small, try opening an online store or selling your soft furnishings through an online marketplace such as Etsy.com or 1000Markets.com. If you're ready for the big time, showcase your creations at a home decor expo. This will expose your furnishings to buyers for major department stores as well as small boutiques. People from all over the world attend expos, so you may get lucky and receive several orders. If you decide to take this route, prepare to fill thousands of orders if necessary.