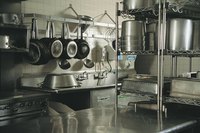 If you run your own restaurant, you likely have a number of cooking supplies and equipment made of stainless steel. Stainless steel is practical for restaurant owners because of its resistance to heat, fire and corrosion—and it's inexpensive. Cleaning stainless steel equipment in your restaurant (or even your kitchen at home) is easy to do and only takes a few minutes depending on how dirty it is.
Things You'll Need
Nonabrasive cloth or towel
Water
Mild dish soap
Vinegar
Mineral oil
Baking soda
Soak the stainless steel object in a sink of warm to hot water before cleaning if the object can be soaked safely. Some electrical equipment in restaurants is not waterproof. It will say on the device whether it is.
Wipe the stainless steel object with a damp cloth to clear away any extra food or grease.
Look closely to determine the direction of the grain of the steel. When cleaning stainless steel, you should scrub along the grain to avoid damaging it.
Use a nonabrasive cloth and some mild dish soap in water to scrub the stainless steel along the grain. Alternatives to dish soap include mineral oil, baking soda and vinegar. Vinegar is ideal for removing spots from stainless steel.
Use a damp cloth to again wipe the object of any cleaning agent you used to clean it.
Dry the object to avoid streaking and watermarks.