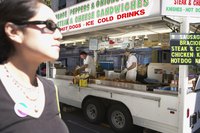 Food-vending trucks have been gaining visibility in popular culture. While they were once seen merely as trucks that sell street food, it is now acceptable and even fashionable to have a food truck feeding guests at parties and receptions. It may be difficult to hire food-vending trucks, depending on their capacity and services, but it is possible.
Things You'll Need
List of food requirements
Number of event attendees
Directory of food trucks, or access to Google or Yellow Pages
Decide on the kind of food you are looking for. There are many food trucks selling a wide variety of foods. For example, the Sprinkles truck sells cupcakes, while the Green Truck specializes in organic food. If you have ideas about foods that might be outside a specific truck's usual menu, it may be possible to ask if these ideas can be accommodated.
Search for food trucks. If you have narrowed down your food preferences, or have created a set of criteria, it will be easy for you to search for the truck that meets your requirements. Try Google, the Yellow Pages, and local business directories. Some newspapers and publications compile directories of trucks in certain urban areas, so make sure to check your local newspaper as well. Build a list of companies to contact.
Contact each company on your list to get price quotes. Have information about your event on hand, including the number of people attending. Ask about types of food that are available, the truck's schedule, and any party packages they have.
Learn more about the food-vending trucks and the companies that own them. It's important to know how these trucks make their food, what types of ingredients they use and what kind of operating business permit they possess.
Use caution when selecting trucks, as you wouldn't want to get in trouble for hiring a truck without a proper business permit.
Create an agreement with the food-vending truck company that you choose. Depending on the specifics of the event you are planning, you may decide to have the truck vend food for sale to attendees, or you may decide to shoulder the expenses and provide food at no cost to your guests. You also need to consider logistical issues such as where the truck should park during your event.