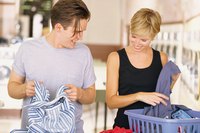 Nothing feels and looks nicer than a cool, crisp white shirt. But a perfectly good shirt can be ruined by a combination of deodorant and sweat, which leaves unsightly yellow arm pit stains. Don't give up and relegate your white shirt to the rag bag. With a few minutes and a bit of elbow grease, pit stains can often be removed, but act quickly. You'll have a better chance of removing the pit stain if you treat the shirt as soon as possible. The older the pit stain, the more difficult it is to get rid of it.
Things You'll Need
Turn the white shirt inside-out, and rub a small amount of liquid laundry detergent into the stain. For best results, choose a liquid laundry detergent that is formulated to treat protein-based stains such as grass stains or food stains. Let the white shirt sit for 30 minutes.
Boost the effectiveness of the liquid detergent by putting the shirt in direct sunlight. Leave the shirt in the sun for several hours, misting it occasionally with water to keep the detergent damp.
Put the white shirt in the washing machine and launder it in cool water. Hang the shirt up to air dry. When it's completely dry, check if the stain has been completely removed.
Treat the stain with hydrogen peroxide if the stain persists. Mix 1/2 cup of peroxide and 1/2 cup warm water in a plastic bowl or cup.
Pour the diluted hydrogen peroxide on the stain and let it sit for 30 minutes. Wash the shirt in the washing machine and allow it to air dry. If the stain is still noticeable, repeat the procedure, but use a stronger mixture; 1/2 cup peroxide and 1/4 cup water.