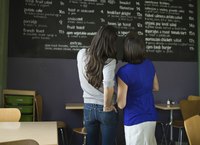 Creating a good menu is critical in introducing customers to your restaurant. Providing diners with a list of the food and drink items may seem easy at first, but experienced restauranteurs and marketing professionals know better. They will likely agree with a familiar adage--it's not just what you say, it's how you say it. Opening a menu is like opening a party invitation--graphics, typography, and knowledge of how the eye and mind process visual information are all important. You can use those elements to create a menu that tantalizes customers.
Things You'll Need
Menus from your favorite restaurants
Menus from your restaurant competition
Professional marketing information
Designer or printer
Research other restaurants by reading their menus. Look at menus from restaurants you like. Notice the menu elements that seem to express the restaurants' overall spirit as well as presenting its food. Heavy cream-colored paper and formal type with lots of surrounding white space usually suggest expensive prices, extensive ingredients and good service, for example. A crisp blue-and-white format with an informal type face can express the informality of your favorite seafood place. Line drawings of fruits and vegetables suggest a commitment to freshness. Crystal-clear type and narrow columns let you know the local diner is fast-paced and price-minded.
Assess your direct competition via menus. You and three competitors claim to sell the best hamburgers in the world. Study menus to see how that information is conveyed. Some menus may boast the virtues of using only Angus beef, while others may take pride in the sources of their buns and cheese. Some may prefer a slogan that plays on the word "best," using color and exclamation points. "Joe's Hamburgers" may benefit from a picture of Joe.
Learn about how customers read menus. Marketing professionals suggest that the riddle of restaurant success has the same answer as overall business success: location, location, location. Take tips from the menus of other restaurants to help increase sales of profitable items and decrease lower-margin items.
Get tips from design professionals and printers, whether they have lots of menu experience or not. A carefully chosen border that contains elements related to your restaurant's design or food is a valuable substitute for we-need-a-line-here. Your favorite color may suggest the depth of your wine-cellar selections or look like beet juice when printed on paper. Graphic professionals can offer suggestions that make your type more readable.
Make your food list and edit it carefully. If you are willing to serve any salad with any dressing, you need to list dressings only once. If seafood depends upon availability and market price, you need to cue customers to ask. If all pasta dishes can be prepared as a first or a main course, you can list them once, with a note to that effect. If it's the wealth of unique garnishes that make your hamburgers the best, figure out how to give them the menu space they deserve.
Upscale prices are often presented in small type and even numbers ($27 and no cents). Customers who are drawn by your reputation for generous value will want prices in larger type and to the penny.