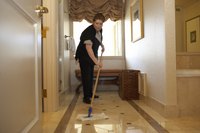 Managing a cleaning business requires just as much work and effort as the cleaning itself. Even privately owned cleaning services in which the owners do all or most of the cleaning need effective management strategies to maximize profits and limit expenditures and problems. Formulating a sound business plan and management method can help you ensure your cleaning business succeeds.
Be thorough when hiring and retaining employees. If you hire outside employees for your cleaning business make sure they are punctual, tidy, organized and trustworthy. Most cleaning businesses involve entering clients' homes or places of business, so it is vital that your employees are on time and complete the job efficiently and professionally.
Create a fair pricing structure that is also profitable. Take the cost of your labor, materials and overhead into consideration when deciding on a pricing structure. Some cleaning companies charge a flat fee for homes or businesses up to a certain size, some charge by the room and others charge by the hour. However you decide to charge, keep a record of the cost of your materials, payroll and other expenses to maintain your business, such as telephone and Internet service.
Keep detailed records of your expenses, payroll and profit to make filing taxes easier. If you own your own cleaning business, make an appointment with an accountant to discuss the tax implications of owning your own business.
Get your company name and logo out there. Advertise in free newspapers and magazines. Post ads for your service on your local Craigslist. Run an ad in the Sunday paper. Always ask current clients for referrals. The more advertising presence you have, the more business you're likely to get.
Provide your employees or yourself with quality materials that are not worn out or damaged. Not only will this present a positive image to your clients, it will also help you get the job done quicker and better.
Make sure you or your employees clean efficiently to maximize your profits. This is especially important if you charge by the job or by the room. Clean a room from top to bottom so that you do not have to sweep the floors again after wiping down cabinets or dusting high shelves. Clean one room or area thoroughly before moving on to the next to minimize going back and forth because you forgot something.
Listen to your clients. Though it may seem like some customers are just being overly picky, listening to your customers' needs and providing them with the service they want will help ensure repeat business for your company.