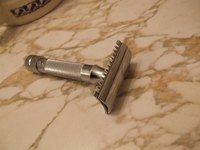 Vintage razors, with their origination dating back to the 19th century, have become quite the collectible item in recent years. When dealing with such old and wise razors, it is important to properly clean the device to return it to its original glory and working condition.
Things You'll Need
Hydrogen peroxide
70% isopropyl alcohol
Metal polish
Tarnish remover
Washcloth
Fill a small bowl with hydrogen peroxide and soak the razor for 8 to 10 hours. Remove the razor to scrub away the loosened grime. Allow the razor to soak for a couple more hours, scrub away any additional grime and rinse with warm water.
Polish the razor with metal polish. Pay attention to the nooks and crannies, allow the polish to settle and then remove with a damp washcloth.
Remove the tarnish by placing the razor in a pot of boiling water and tarnish removal solution. Allow the razor to stay completely submerged in the boiling water for 45 minutes. Carefully cool and remove the razor, rub dry with a washcloth.
Disinfect the razor with isopropyl alcohol. Submerge for 30 minutes and wash with warm water and a damp cloth.