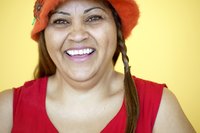 Gravity has a way of taking its toll as people age. While crow's feet, lines and creases can be concealed with makeup and plastic surgery, it's a bit more challenging to get rid of a double chin. Before you go searching for a cosmetic surgeon, it's worth considering cheaper and less painful alternatives.
Lose weight. Double chins aren't always the result of growing older. Monitoring your diet and increasing your exercise levels can improve your appearance significantly.
Target your chin with facial yoga exercises, such as the ceiling kiss. While sitting in a chair, tilt your head backward and lift your head as if trying to kiss the ceiling.
Strengthen your platysma muscle to get rid of a double chin. This muscle is responsible for the jawbone and the corners of your mouth. Start by opening your mouth wide and stretch your bottom tip over your lower teeth. Now slide your bottom teeth up and down as if you're shoveling. Do this three times a day.
Introduce a low-calorie, sugar-free gum to your daily routine. Crunchy vegetables also work well. All of that chewing and crunching will work to give you good definition and keep double chins at bay. But, remember to chew sugar-free gum.
Slap under the chin with the back of your hand. Go slow to begin with and aim to quicken the speed. For good effect aim, for three sessions of two minutes daily.
Consider laser chin surgery if other methods don't work. Surgery can be very painful, so it isn't a decision that should ever be taken lightly.