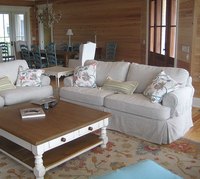 Some people just have a knack for making homes and rooms beautiful and attractive. If this is the case for you, opening a home decorating business is the perfect venture to consider since start-up costs are fairly low and the talent is already there. With a bit of careful planning, you can grow a successful home decor business.
Things You'll Need
Business license
Home office
Portfolio
Establish an area in your home for your office and meeting space, and get the appropriate licenses. You can file paperwork to become a sole proprietor--this is the most common and easiest way to set up business as a home decorator. Other options, which are more costly and take a bit longer to finalize, are filing as a limited liability corporation (LLC), limited liability partnership or corporation.
If you plan to use a business name other than your legal name, you will also need to get a DBA, also known as a "doing business as" or fictitious name license.
Make a portfolio containing photos of your best work. If you have not had any clients yet, do free work for friends and family to get photos that show off your decorating talent.
Figure out what types of clients you will market to. You can work with clients on a budget, those who have large, luxurious homes, renters or clients who have a small space.
Take a home decorating course to sharpen your skills--this can also add to your credibility. You can also opt to read home decorating books or attend workshops at a local home improvement store such as Lowe's or Home Depot--they post their workshop schedules in store.
Make a website for your new business. Make sure the website contains your portfolio, contact information, pricing and rate information, a list of décor services you offer, and a bit about your decorating philosophy.
Develop a client contract for your decorating business. It should include payment terms, what the client is expected to purchase, and any work guarantees you want to make.