Broiling, grilling and frying are all wonderful preparation methods for fish. Each lends a variety of nutty and savory notes to its own natural subtle delicacy. Still, there are times you might want to take a gentler approach. On those occasions, preparing the fish "en papillote" -- in a pouch or bag of parchment paper -- is one of the most powerful techniques. The fish simply steams in its own juices within the bag, remaining moist, delicate and tender.
(Sarah Vantassel/Demand Media)
Things You'll Need
Parchment paper

Paper towel

Salt and pepper

Aromatics, optional
Butter or oil, optional

Wine, lemon juice or other liquid, optional

Sheet pan

Knife or scissors
Step 1
Preheat your oven to 400 degrees Fahrenheit. While it's warming, cut a large sheet of chef's parchment paper into a heart shape, 12 to 15 inches from side to side and 15 to 18 inches from the top to the point at the bottom. Repeat as needed, making a heart for each portion of fish.
Sarah Vantassel/Demand Media
Step 2
Blot the fish dry with fresh paper towels to remove any surface moisture. Season the portions liberally with salt and pepper, and other flavorings as desired.
Sarah Vantassel/Demand Media
Step 3
Center a small quantity of aromatic vegetables -- such as leeks, spring onions, fresh herbs, julienned ginger, daikon radish or slivered garlic scapes -- on one lobe of each parchment heart. Nestle one portion of fish on top of the aromatics, which will complement the flavor of the fish.
Sarah Vantassel/Demand Media
Step 4
Top the fish with a splash of good olive oil or a pat of butter. For a lower-calorie alternative, use a tablespoon of white wine or lemon juice.
Sarah Vantassel/Demand Media
Step 5
Fold the parchment so its edges meet, then -- beginning at the top of the heart -- fold and crease the edges to make a seal. When you get to the heart's point, twist it several times to ensure that the parcel is sealed. Repeat for the remaining portions, then transfer them to a baking sheet and place them in the preheated oven.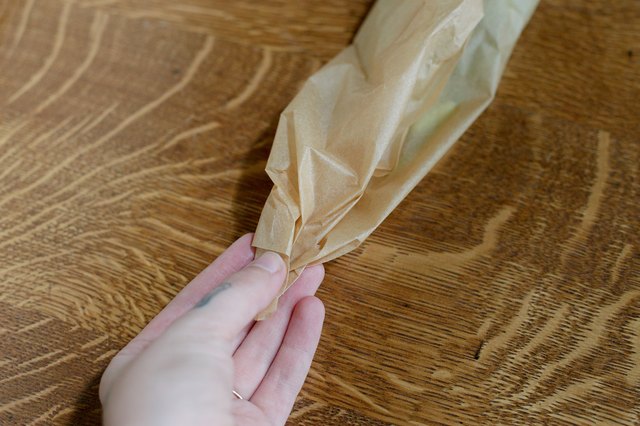 Sarah Vantassel/Demand Media
Step 6
Bake for nine to 12 minutes, until the parchment bags are puffy and browned. Remove your sheet from the oven, and place one parcel on each plate alongside side dishes. Carefully slit each parcel at the table, with a knife or well-washed pair of scissors, to release the aromatic steam and reveal the cooked fish.
Sarah Vantassel/Demand Media
Promoted By Zergnet