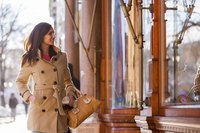 Retail store owners face a constant challenge to win customers and increase profits. Among the ways to attract new business is through compelling displays in storefront windows closely. An attractive storefront window display can help you gain customers and get noticed in your neighborhood.
Create an Appealing Story
Before you decorate your storefront windows, think about what you're hoping to accomplish, such as selling a particular product or creating a holiday-based theme. If you are promoting various products, make sure that customers can directly purchase these items in your store. For holiday-based themes, be creative while also ensuring your storefront windows relate to your products or services. For example, you may want to have a Santa's workshop theme for Christmas. However, if you don't sell Christmas items, focus on using holiday colors and incorporating your store products and services into the window display.
Choose Vibrant Colors
When you are decorating your storefront window, use bold shapes and colors. A dull and boring window display will not entice customers to visit your store. If you own a clothing store, focus on colors associated with a particular season, such as brighter yellows during the summer months. A bakery or restaurant also may use colors centered on the season, such as red for Valentine's Day or brown during the fall.
Develop an Eye-Catching Display
Your products and services should be the focus of your storefront window. Organize your display's elements in visual planes that draw the eye to a focal point and close to eye level. If you own a stationary store, display top-selling products in your window, such as a set of fancy thank-you notes with envelopes. However, don't have too many products on display, since that can make your storefront window look too busy and less appealing to customers.
Use Good Lighting
Whether you have one or four products in your storefront window, you still need to use good lighting. Don't hang lights directly above a product, which may cause shadows. Instead, use spotlights that can remain on after you close your store for the day. Experiment with a variety of lights to see which ones best display your products.